I loved two things the most when I was growing up – fairies, elves, … and horses.
Horses have been around almost since the beginning of time.
Horses belong to the equus family which comes from the Greek word meaning "quickness".

Horses can communicate how they are feeling by their facial expressions. They use their ears, nostrils, and eyes to show their moods. Beware of a horse that has flared nostrils and their ears back.
A horse can move in four ways: walk, trot, canter, and gallop. A gallop is the fastest gait.
Horses sleep less than three hours a day
A horse is able to drink 10 gallons of water per day. (one gallon = 3.78 liters)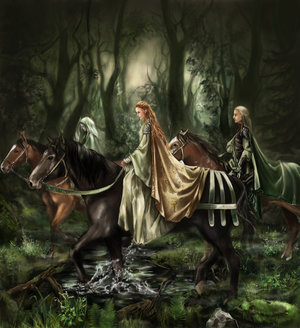 Usage of horses started from 1900 BC.
Horse being a vegetarian consumes only grasses and hay. Those who are used for heavy works are fed barley, maize, oats, grams and bran.
Some horses are found in different colors such as brown, black, white and cream found all over their body, while some with mix colors.
Horses spend more energy lying down. (And that is one reason why many horses sleep standing up.)

Myths and legends about the Unicorn can have been known and discussed for hundreds of years. One legend says that you can find these mystical creatures only during the light of the full moon. The horn will twinkle and shimmer in the moonlight and this sparkling light will lead you to where they are grazing.
Fairy horses have been known to appear to children, always near a lake or river .
" There is no secret so close as that between a rider and his horse".(Robert Smith )

THE LAST UNICORN
When the last eagle flies
Over the last crumbling mountain
And the last lion roars
At the last dusty fountain
In the shadow of the forest
Though she may be old and worn
They will stare unbelieving
At the Last Unicorn
When the first breath of winter
Throught the flowers is icing
And you look to the north
And a pale moon is rising
And it seems like all is dying
And would leave the world to mourn
In the distance hear her laughter
It's the Last Unicorn
I'm alive... I'm alive
When the last moon is cast
Over the last star of morning
And the future is past
Without even a last desparate warning
Then look into the sky where through
The cloudes a path is formed
Look and see her how she sparkles
It's the Last Unicorn
I'm alive... I'm alive.