Once the clouds layer is ready, press Ctrl + T and drag the bottom line upwards, "compressing" the clouds into a smaller strap, about half of the canvas. Set the blending mode of the clouds layer to "Pin Light". This way, you will only see the WHITE areas of the clouds and totally won't see the black areas.
Move the clouds in a way that will allow the white areas in clouds to lay over the balloon, this way we can see that the balloons are actually floating somewhere in the area, partly obscured by the heavy sky… Use Eraser Tool with soft edge to remove any edges of the clouds layer once it's moved and you can also duplicate that layer and make a few of them, so you will have more cloudy effect (which is what we have done).
Next, crop our beautiful Becca.
The cropping technique will not be explained here as being pretty much basic, but we want to emphasize that if you use our particular image, the cropping will be rather complicated, since at some points (such as arms) the contrast between skin and background is minimal, which makes the cropping rather difficult and we had to use a few steps to complete this task, first we used Polygonal Lasso Tool, them Magnetic Lasso Tool, them we "refine edges" as pictured below..
Place the girl unto the canvas, and desize her so she will fit in nicely..
To add our own contrast to the image, we want to make the clothes texture more visible, less dark areas yet without losing the overall contrast and juiciness of the image, so with the girl's image selected, we went to Image >> Adjustments >> Curves, and created a custom curve that consists from 3 points, as pictured here:
Next we need a shadow underneath her legs. Draw a circle using the round shape tool and black color as your foreground Photoshop color. make sure it's placed correctly underneath her feet and has an elliptical shape.
Resterize the layer and go to Filter >> Blur >> Gaussian Blur
Set the shadow's opacity to Multiply 57%, and you will see that the shadow is mildly visible yet it is present and gives a more realistic illusion of the jump or fly in the air. Please also make sure that you place the shadow underneath the girl's image!
Final Steps…
Although most of the colors we used here blended in well and eventually created an organically looking picture, we still need to equalize the layers together. What some people do, and I used to do it myself in previous tutorials, is to merge all the layers, or even flatten the image, and then work on the colorization and the levels. This is very easy and perhaps will do the trick with most beginners, but even if you are not yet that much of a pro with Photoshop, you need to learn how to work with Layer Adjustments.
In your layers' panel, you have a small icon below, that looks like Yin-Yang symbol.

Create a new layer on top of all the other layers, and click this icon; you have a menu with various options, select "Photo Filter" first.
Use the default "Warming Filter (85), which I think is best for any picture, if you are looking to get a quick and warm effect, and set the Density to about 25%. Basically, the rule of thumb is, if we use warm colors such as brown, pink and earthly shades, we will give our composition a warm feeling (which is our aim here!), however if you want to make your final outcome look more cold, dreadful, dramatic and morbid, use shades of blue and green.
Once this is done, white you still have a layer selected that is on top of all the others, click teh Layer Adjustments icon again, select "photo filter" one more time and this time apply plain yellow color filter, with 48% density.
Most of you might want to stop here, but we want to really make this image look awesome, so we go ahead and click the Layer Adjustments icons again, this time we pick the "Curves". This will apply the Curve settings to ALL the layer that lay underneath these settings, which is a huge advantage as you need not go layer by layer.
Make two points, which will brighten up the image quite dramatically. Note that we are working with RGB channel.
Now, the very final touch is to give our composition a light lightly cold touch, as we spoke before, a bit of green hue will do this trick. So yes, we will click on the Layer Adjustments again, and select the RED channel this time. Darken the image a bit, using two points…
That's it! Hope you enjoyed the tutorials, and please feel free to download the PSD file for learning purposes (1024 x 764). You can also replace the model of our tutorial with your own image, and you will have all the effects already in place. Click on the image below to full view.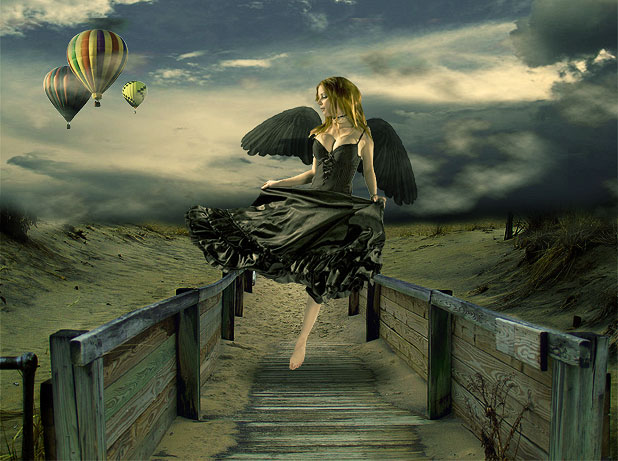 Fonte