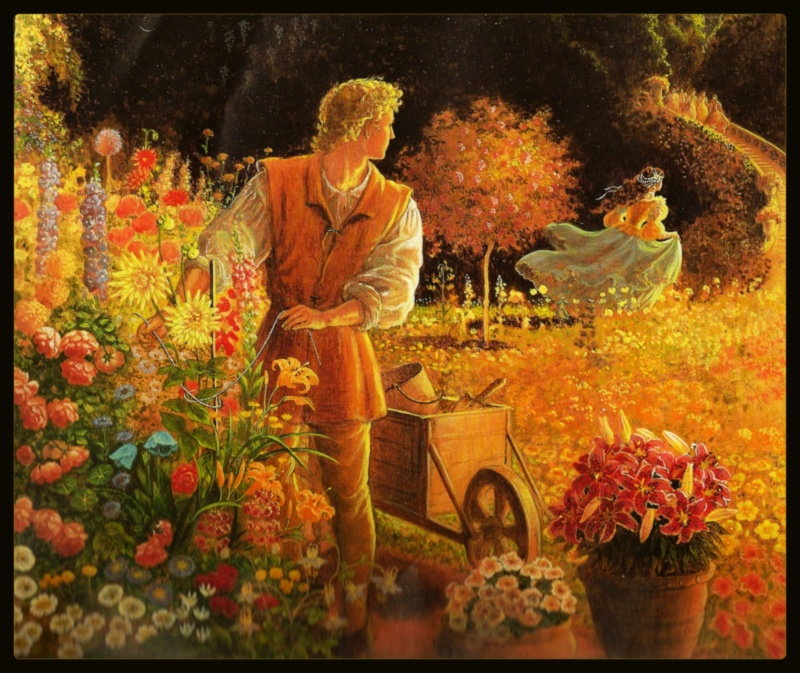 Long ago and far away, at the edge of a humble village, there lived a young farmer named Peter. One warm day in the middle of summer, as he sat listening to the soft contented braying of his sheep, Peter had a vision: A lovely woman dressed like a queen was standing before him. She spoke gently, calling him by name, "Peter, you must go to the King's castle. If you succeed where others have failed, you shall get your wish and marry a princess." That night, he packed his few belongings and gave his flock of sheep to a kind neighbor. At daybreak, he set out for the King's castle. Peter knew the King had twelve daughters. All princesses slept in a large hall. Yet each day for the past year when the King kissed them all good morning, he found to his dismay that satin dancing slippers had been worn to pieces. The King became concerned and asked his daughter, "How can it be that you wear out your brand new slippers every night?" But his daughter refused to answer. Finally, the worried King sent out his heralds to proclaim that whoever discovered how the Princesses wore out their shoes could then choose one of them for his wife. When Peter arrived at the castle, he asked the royal gardener for work within the castle grounds. "Your task will be to tend the Princesses' special flower garden," he said. "And every morning, you must make bouquets to present to each of them." At sunrise, he carefully selected blossom and placed them in twelve identical baskets, and he gave a basket to each. The youngest, Princess Elise thanked him graciously. Elise's gentle beauty struck Peter. From their first meeting, Peter longed to discover the Princesses' secret. Then one day, while working in the royal garden, Peter found a small golden flower. Peter took the flower to his own room, and standing before a mirror, he placed it in his buttonhole. Suddenly his image faded and he was invisible. That night, Peter used the tiny golden flower to tiptoe unseen behind the twelve Princesses as they went to their bedchamber. Soon everything was silent, save for the ticking of a clock. Hours passed as the clock struck ten, eleven, and then twelve. The eldest said, "Hurry, we mustn't be late!" As Peter watched, the eldest sister went to her bed and tapped it three times. Magically, it sank beneath the floor, revealing a stairway. The twelve Princesses hurriedly descended the long, winding staircase. Peter rushed from his hiding place and followed. The Princesses continued to drift down the staircase, which took them to a strange and wonderful twilight kingdom. The eldest sister opened a gate covered with vines, and a little silver forest stretched ahead of them. Drawing clear of the silver trees, they soon came to a dazzling forest of gold. Next they crossed to another forest, more stunning than the others, where glittering diamonds clustered upon every leaf.
At last, they arrived at a large lake. On the shore twelve small boats awaiting them and in each a fine prince was seated. Peter quickly sat himself beside Elise.
As they neared the other side of the lake, Peter saw a splendid black marble palace brilliantly lit at every window, the music swelled and quickened. They entered a huge ballroom where they were greeted by many other dancers. Endlessly they danced on and on, seeming never tire. Peter then danced with each Princess. When the Princesses' dancing slippers were quite worn through, the music ceased. At last, the eldest sister made a sign that a special drink was to be presented to Peter. For one brief moment, Peter looked directly at Elise and then lifted the goblet to his lips.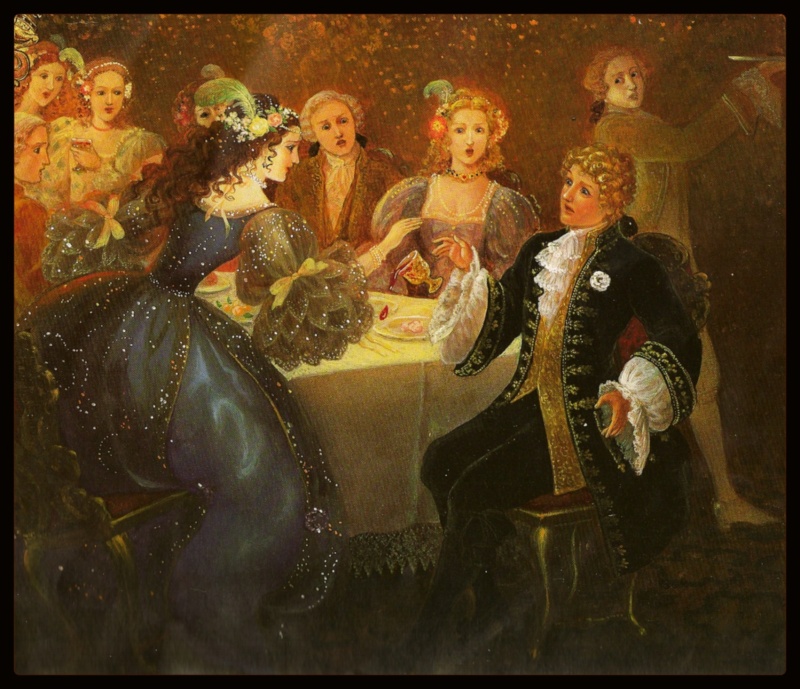 "Stop," Elise cried out. "Don't drink. It will make you like the rest." She took the goblet from him and cast the contents to the floor. With this one act of love the spell was broken and everyone in the palace was free from enchantment.
"We shall never be able to enter the twilight kingdom again." Elise said. "Does that make you sad?" asked Peter. "No," answered Elise. "We can always dance, and I have come to love you more than anything else." The King was overjoyed and he sent his heralds to announce that mystery was solved, the spell had been broken.
(The Twelve Dancing Princesses by M. Mayer)