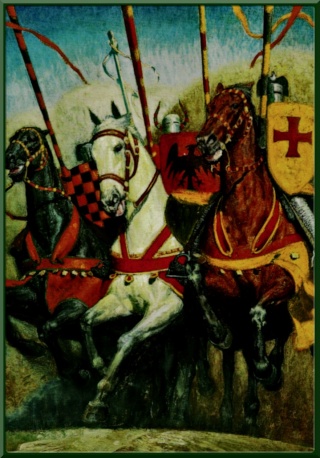 At the Dawn of the middle Ages, a gripping tale of chivalry and suspense emerges. Two distinguished knights one Saxon, one Norman have returned from Crusades. Though they fought on the same side, they now have a score to settle. What begins as a joust between two rivals quickly escalates into clanwide mayhem and a fast-paced series of battles for revenge, honor, and love.
Sir Walter Scott's Ivanhoe was one of the first great historical novels of Western literature.

Early one hundred years had passed since the Duke of Normandy conquered Anglo-Saxon England at the Battle of Hastings in 1066. But in all that time, the hatred between the victorious Normans and the defeated Saxon had only deepened.
When King Richard the Lion-Hearted took the throne in 1160, though he himself was a Norman, he tried to unite the two rival clans so that Saxons and Normans alike might live in peace as Englishmen. But Richard left his kingdom to join the Crusades, and his absence much turmoil followed. His brother, Prince John, seized the throne and declared himself acting regent. Hoping never to surrender the crown to his brother, John curried favor with the Normans by abusing the rights of the Saxon. For if King Richard was for England, John was for John.

Principal character is Wilfred of Ivanhoe, who is in a bad relationship with his father because of his allegiance to the Norman king Richard I of England. This story is set after the end of the Third Crusade, when many of the Crusaders were still returning to Europe. King Richard, who had been captured by the Duke of Saxony, on his way back to home, was still supposed to be in the arms of his captors. In this story is also mentioned Robin Hood, who is called Locksley and his merry men. Other main characters are Ivanhoe's insurgent Saxon father Cedric, who is a descendant of the Saxon King Harold Godwinson.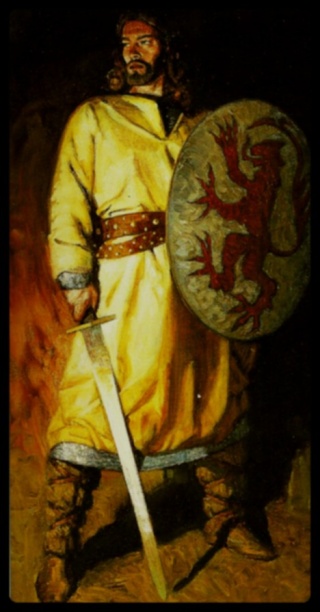 There are also mentioned various characters like Knights Templar and churchmen; the loyal serfs Gurth the swineherd and the jester Wamba and the Jewish moneylender, Isaac of York and his daughter, Rebecca. Sir Wilfred of Ivanhoe is disinherited by his father Cedric of Rotherwood, for supporting the Norman King Richard and for falling in love with the Lady Rowena. Unfortunately Lady Rowena was Cedric's ward and a descendant of the Saxon Kings of England. Cedric plans about this lady were different. He wanted to marry her to the powerful Lord Aethelstane who was pretender to the Saxon Crown of England. Ivanhoe accompanies King Richard I to the Crusades, where he is stated to have played a notable role in the Siege of Acre. After Crusades Ivanhoe returns secretly to England disguised as a religious piligrim. He fights in the great tournament where he wins his enemy Templar Brian de Bois Guilbert with the help of Black Knight. He names Rowena the Queen of Love and Beauty, and reveals his identity to the crowd. But he is badly wounded and collapses on the field. In the meantime, the wicked Prince John heards a rumor that Richard is free from his Austrian prison. He and his advisors, Waldemar Fitzurse, Maurice de Bracy, and Reginald Front-de-Boeuf, begin plotting how to stop Richard from returning to power in England. John has a plan to marry Rowena and he kidnaps Cedric's party on its way back home from the tournament. He imprisons the Saxons in Front-de-Boeuf's castle of Torquilstone. De Bracy tries to convince Rowena to marry him and at the same time Bois Guilbert attempts to seduce Rebecca who was with Rowena. But she is in love with Ivanhoe. Both men fail. The Castle is attacked by a force led by the Black Night. With him are also Robin Hood and his merry men. Castle is burned down but Bois-Gulbert escapes with Rebecca. He goes to Templestowe, which is the stronghold on the Knights-Templars. But he gets berated by commanders who assume him bringing a witch into their sacred fortress.

Ivanhoe arrives and saves Rebecca. At the same time the Black Knight defeats an ambush carried out by Waldemar Fitzurse and announce himself as King Richard who at last returned to England. Ivanhoe and Rowena marry and King Richard attended, having taken back his throne from his brother, John. Many Normans as well as Saxons joined in the peaceful marriage celebration, a sign of future harmony between the rival clans. Before Rebecca's departure she visits Rowena one last time to thank her for Ivanhoe's role in saving her life. Rebecca and Isaac sail to Granada where is situated their new home. Ivanhoe is in King Richard's service and was graced with much royal favor all the rest of his life.
(Ivanhoe by Sir Walter Scott)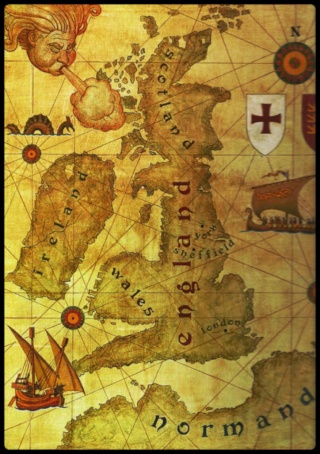 A Note about Sir Walter Scott
Born in Edinburgh, Scotland, in 1771, Sir Walter Scott acquired a level of fame, both socially and as a writer, that was nearly unmatched in his time. "Ivanhoe" written in 1820, is Scott's most popular and best known novel. Feeling that he had exhausted the familiar Scottish themes of his previous works, the author focused instead on the 12th century struggle between the Normans and the Saxons, creating a literary masterpiece that has influenced countless writers after him. Scott was the innovator of the romantic-historical novel. Scott's work has done more to boost our romantic illusion of the medieval age than any other writer in the English language. Scot also drew inspiration from Shakespeare. His characters of Isaac and Rebecca are reminiscent of Shylock and Portia in "The Merchant of Venice."
Scott loved the Scottish Lowlands, where he made his home at Abbotsford. In Edinburgh on the road sloping toward Holyrood and Edinburgh castles there is an imposing monument to Sir Walter, showing the illustrious writer standing beside his beloved dog.