Easter

Eggs and rabbits are traditional symbols of Easter . Chocolate bunnies and Easter eggs, often adorned in colorful foil wrappers, are given to children as presents or are hidden for the Easter morning "egg hunt."
The tradition of decorating real eggs for Easter dates back to the Middle Ages. In 1290 the English king, Edward I, ordered 450 eggs to be covered in gold leaf to be given as Easter presents. It is thought that the bright hues used to decorate Easter eggs were meant to mirror the colors of the reawakening spring growth.
Aside from eggs, the best-known Easter food is the hot cross buns. Dating back to medieval times, the buns were traditionally eaten on Good Friday. These sweet treats, fragrant with fruit and spices, are marked with a cross, either slashed into the dough before baking, or drizzled on in icing afterwards. It is thought that they are descendants of the small cakes offered to Eostre, the goddess of spring. They may have been marked with a cross even in ancient times, to represent the four quarters of the moon.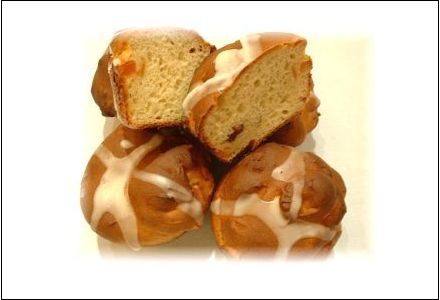 Hot Cross Buns
The Ingredients you will need to make this are:
30 grams yeast
1 1/2 cups milk
60 grams butter
1 egg, beaten
5 cups plain flour
1 tablespoon salt
1/2 cup sugar
1 teaspoon mixed spice
1/2 teaspoon cinnamon
60 grams sultanas
60 grams currants
30 grams mixed peel
1. Mix all dry ingredients with half the flour in a large bowl.
2. Heat butter, milk and beaten egg until lukewarm.
3. Add liquids to dry mixture and beat for 2 minutes.
4. Stir in remainder of flour until soft.
5. Knead on slightly floured board.
6. Cover dough in bowl with cloth and let rise for 30-40 minutes.
7. Punch dough down and divide into 24 buns and place on greased tray and allow rising again.
8. Bake in moderate oven for 20 minutes.
9. Put on wire rack to cool.
10. Mix a little milk with 1/2 cup icing sugar, then brush on buns to make crosses.